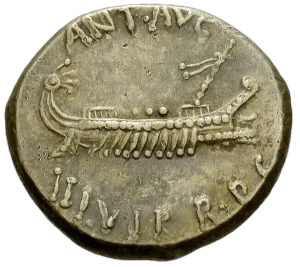 Obverse:  ANT AVG III VIR R P C – praetorian galley to the right.
The Inscription reads: ANT AVG abbreviates the name Antonius along with one of his titles, Augur, a priest of the Roman state religion.
III VIR. R.P.C. (tresviri rei publicae constituendae), which loosely translates as "Triumvir for the Reorganization of the Republic".
Reverse:  An eagle (Aquila) between two legionary standards (signa); LEG V across the field below.
The Inscription reads: LEG V – 5th Legion