Obverse: CAESAR AVGVSTVS TRIBVNIC POTEST – Agusutus Bare head r.
The inscription reads: Caesar Augustus Tribunicia Potestate – Caesar Augustus, holder of tribunician power.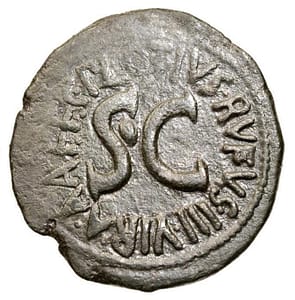 Reverse: C CASSIVS C F CELER IIIVIR A A A F F around S C
The Inscription reads: Caius Cassius Caii Filius Celer Triumvir Auro, Argento, Aere, Flando, Feriundo. Senatus Consultum – Gaius Cassius son of Gaius Celer, moneyer (Triumvir Monetalis) casting and striking gold, silver, and bronze coins. Decree of the senate.